Simply Love: A Family Cookbook
Ginny Love inspired a new focus on family meals with her first cookbook, Simply Love. In it, she shared recipes and tips for creating delicious, wholesome, healthy meals to share with family and friends around the dining table. It is a wonderful family cookbook with lots of ideas for meals that please all generations, from picky young eaters to grandparents and everybody in between.  
Ginny has a deep understanding of cooking and baking technique that comes from formal culinary training, and years of experience pleasing thousands of customers with her food as the chef and proprietor of the beloved local café, The Cooking Company.
Sample Recipes
How to make family meals both meaningful and delicious
Traditionally scalloped potatoes are made with cream. You can make a dish equally as nice using milk in a very thin white (béchamel) sauce.
Chicken Pot Pie can have any kind of pastry on top. Phyllo is easy to work with for people who have an aversion to making pastry. You can also use frozen puff pastry or make or buy a regular pastry.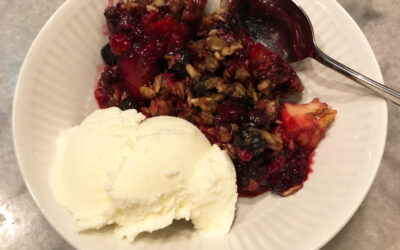 You can use any combination of fruit for this recipe. This is a great dessert any time of the year.