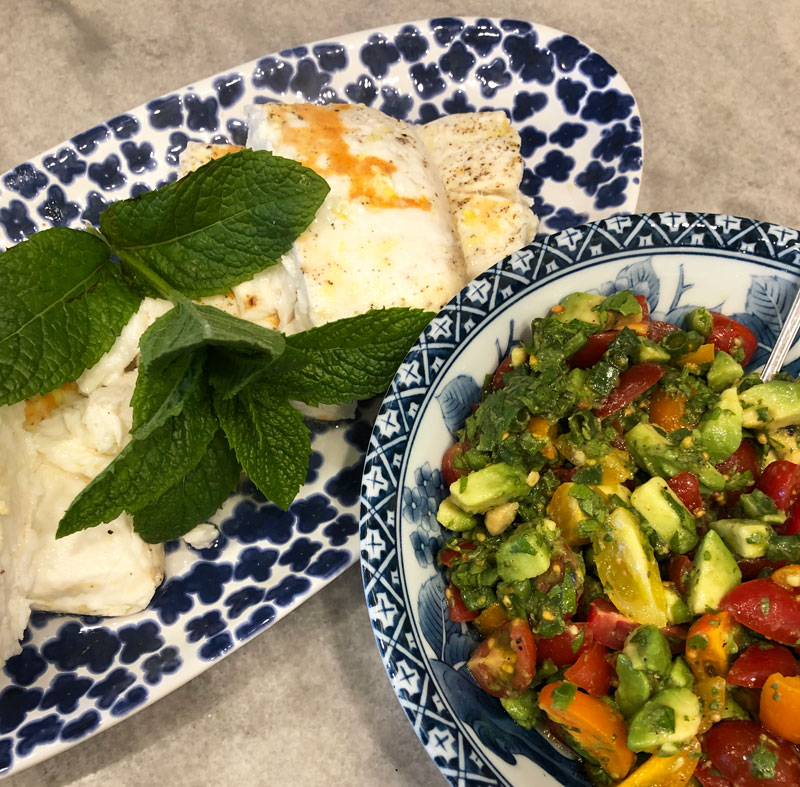 Halibut with Tomato and Avocado Salsa
Introduction
About this Recipe
From: Simply Love
Halibut is such a nice, mild fish even non-fish eaters might like it! The Salsa is very tasty and would work well over any fish. Try adding some fresh mango to the salsa if available.
Serve this dish with a fresh salad and some rice for a quick and easy dinner.
2 pounds Fresh Halibut fillets
2 tablespoons olive oil
Juice of one lime
3 shakes of Tabasco Sauce
Tomato and Avocado Salsa:
1 large or 2 medium tomatoes diced
Or 1 pint cherry tomatoes
1 ripe but firm avocado, diced
2 tablespoons lime juice
1/4 cup sliced green onions or chives
2-3 slices pickled jalapenos, chopped
2-3 tablespoons chopped cilantro or flat leaf parsley (if you don't like cilantro)
2 tablespoons olive oil
½ teaspoon salt
¼ teaspoon fresh ground pepper
Step by Step Instructions
Step 1
Cut halibut into about six serving size pieces. Set it in a glass or ceramic baking dish. Pour olive oil, lime juice and Tabasco over top. Cover and refrigerate for one to four hours.
Step 2
Combine salsa ingredients in a bowl. It can be made several hours in advance. Cover well and refrigerate.
Step 3
Preheat oven to 400F. Cook halibut in oven about 25 minutes or until firm to the touch. You can cook it on the BBQ, on a piece of foil, if you wish.
Step 4
Pass the Salsa at the table.